Die Idee zu Radio Art.Land entstand vor etwa eineinhalb Jahren auf einer kalten und windigen Staten Island Ferry. Bob und Dani waren in New York, um Bobs Geburtstag zu feiern und um Bobs Bruder Gary, der seit etwa dreißig Jahren in Brooklyn lebt, zu treffen.
Auf nach Staten Island
Die Brüder sehen sich nicht sehr oft. Seit er in NYC ist, arbeitet Gary für einen nichtkommerziellen öffentlichen Radiosender in Staten Island – Maker Park Radio. Seine Show – Gazzas Groovy Culture Clash – ist ein regelmäßiger Bestandteil der Maker Park-Showliste.
Jedenfalls hat Gary Bob eingeladen, eine Show mit ihm zu machen. So fuhren die drei von Brooklyn zum Fährhafen von Staten Island im Lower Manhattan. Es ist eine großartige (kostenlose) Fahrt hinüber zu einem windigen Staten Island, vorbei an der Freiheitsstatue. Für den Rest der Fahrt stiegen wir in einen Zug.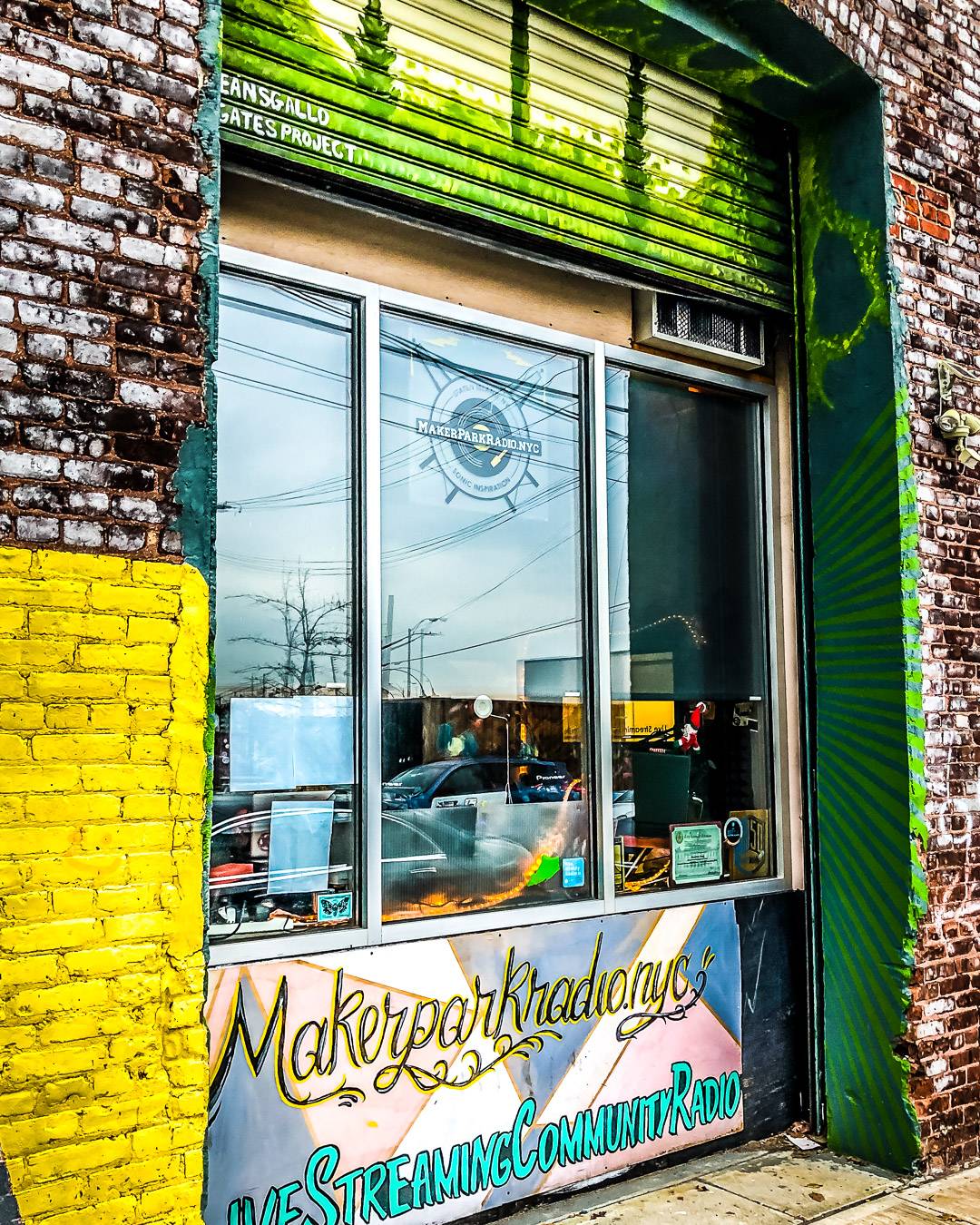 Wo die Musik spielt
Maker Park ist ein Skulpturenpark im Freien und ein gemeinschaftlicher Arbeitsraum, der Künstlern die Möglichkeit bietet, temporäre öffentliche Kunstprojekte zu machen und auszustellen. Auch Schmiedekunst und Bienenzucht spielen eine große Rolle.
In einer Ecke der Werkstatt mit einem Fenster zur Straße befindet sich die Einrichtung für Maker Park Radio. Die DJs können alle die Anlage selbst bedienen, so dass wir allein im Studio waren. Es ist ein Basis-Setup mit DJ-Controller, ein paar Mikrofonen, und jeder DJ bringt seinen Laptop mit. Während des Lockdown sind viele DJs auf Vinyl umgestiegen, weil sie von zu Hause aus senden und die Platten nicht auf der Fähre mitnehmen mussten.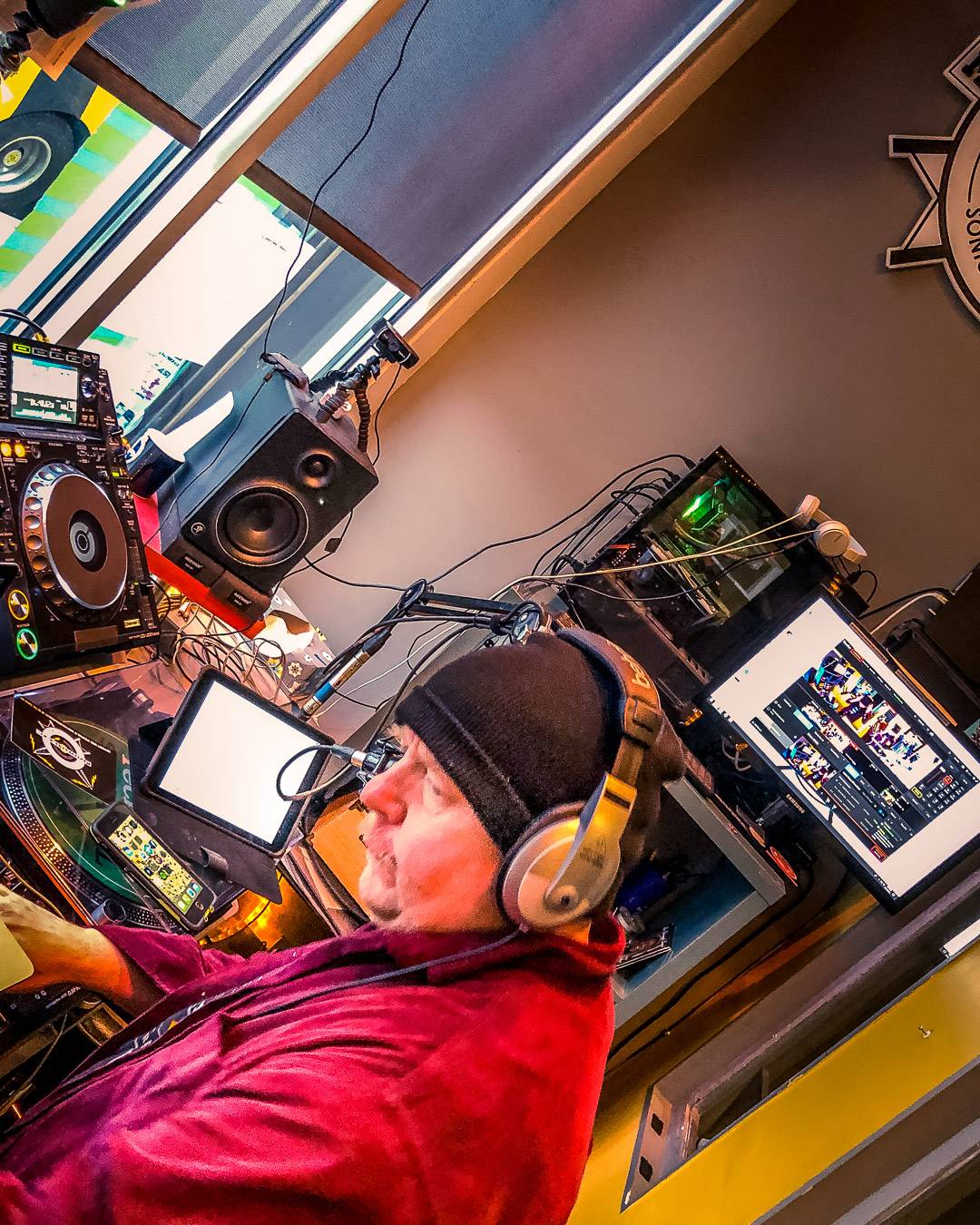 Es hat Spaß gemacht, die Show zu machen. Ich spielte Gary klassische deutsche Musik, von Can bis Neubauten, und natürlich mussten wir DAF und Der Plan spielen.
Maker Park Radio ist im Internet verfügbar, sie haben ein großartiges Archiv. Eine der besten Shows ist die Synthesizer-Show, die von Vince Clarke moderiert wird, den Sie vielleicht von Depeche Mode, Yazoo und Erasure kennen. Vince wohnt um die Ecke von Gary und wir trafen ihn in der örtlichen Bar, ein netter Kerl. Eine meiner Lieblingssendungen im Maker Park ist Mitbegründer Tom und seine "Nowhere Fast"-Show. Tom hat einen großartigen Geschmack und spielt immer etwas Seltsames und Wunderbares.
Ok und jetzt nach Deutschland
Lassen Sie uns also über den Einfluss für RadioArt.Land sprechen. Wir waren sehr beeindruckt von der Leichtigkeit, mit der das System funktioniert. Die USA haben ein nachsichtigeres System mit Rechten und auch Spenden, so dass es einfach ist, einen nicht-kommerziellen Radiosender zu gründen. Als wir nach Deutschland zurückkamen, sahen wir uns die Regeln und Vorschriften an, um etwas Ähnliches in Artland zu machen.
Einer der Hauptgründe für unser RadioArt.Land-Projekt, das durch den Covid-19-Virus beschleunigt wurde, war die Kraft der Musik. Wir sind in einer Zeit aufgewachsen, in der Musik eine politische und kulturelle Waffe war. Sie wurde benutzt, um Tyrannen und Kriegstreibern entgegenzutreten. Musik war gleichzeitig motivierend und inspirierend, eine Heimat für gleichgesinnte Menschen. Sie war ein Teil des Erwachsenwerdens.
Heute ist die Situation eine andere. Musik ist nicht mehr die Hauptquelle der Unterhaltung. Es ist an der Zeit, das zu ändern. Jeder, der den Nervenkitzel von lauter Musik in einer Konzertsituation erlebt hat, wird das Gefühl kennen, das wir mit Worten zu beschreiben versuchen.
Was ist passiert?
Bob und Kosta begannen, einige Shows auf der Mixcloud-Plattform zu spielen. Mixcloud ist eine sehr gute Lösung für DJs, weil sie einen Vertrag mit der Gema in Deutschland haben, so dass Sie das Urheberrecht an der Musik, die Sie spielen, nicht missbrauchen.
Kosta hat eine großartige "Kick out the Kems" Lockdown-Show gemacht, und wir haben herausgefunden, wie dieses Ding funktioniert. Der nächste Schritt war, die Art von Leuten zu finden, die uns helfen würden, dieses Projekt zum Laufen zu bringen. Das war nicht so schwierig, wie wir vielleicht gedacht hatten. Quakenbrück hat eine lange Geschichte von Musik, Discos und DJs. Deshalb hat RadioArtLand jetzt eine starke Liste von DJs, noch bevor wir live sind. Wir haben auch einen Verwaltungsrat eingerichtet. Der nächste Schritt war, die rechtlichen Fragen zu klären. Thomas Wellmer, unser örtlicher Anwalt, half uns dabei, ebenso wie Konrad Zinn, unser Steuerberater.
Ein Verein gründen
Um von der Gema offiziell anerkannt zu werden und alle Musik auf einem Webradio abspielen zu können, beschlossen wir, eine nicht-kommerzielle Einrichtung zu gründen, auf Deutsch ein "gemeinnütziger Verein". Dazu muss man eine Vereinbarung mit dem deutschen Finanzamt treffen, was nicht einfach ist, aber wir wollten den Sponsoren und Mitgliedern eine Möglichkeit zur Steuerersparnis geben können, wenn sie uns unterstützen. Und genau das ist passiert.
Wie funktioniert das also? Die Gründung
Das Konzept ist einfach. Die Show wird live ausgestrahlt, ist aber im Rückruf erhältlich. So können Sie auf das gesamte Musikarchiv zugreifen. Wir haben das Studio im Untergeschoss bei der USED GmbH gebaut, einer Firma, die Fahrräder herstellt. Wir haben eine gute Einrichtung, die es uns erlaubt, Vinyl, CD's und sogar Kassetten (!) abzuspielen. Die Musik wird digitalisiert, durchläuft eine Software und wird ins Internet hochgeladen.
Mal sehen, wohin wir gehen. Kommt ihr mit?
---
English Version:
The idea for Radio Art.Land started about a year and a half ago on a cold and windy Staten Island Ferry. Bob and Dani were in New York to celebrate Bobs birthday and to catch up with Bobs brother Gary who has been living in Brooklyn for about thirty years now.
The brothers don't see each other very often. Since being in NYC Gary has been working for a non-commercial public broadcasting radio station in Staten Island – Maker Park Radio. His show – Gazza's Groovy Culture Clash is a regular part of Maker Park show list.
Anyway, Gary invited Bob out to do a show with him. So the three of them went from Brooklyn across to the Staten Island ferry port in lower Manhattan. It's great (free) ride across to a windy Staten Island, pass by the Statue of Liberty. We got on a train for the rest of the ride.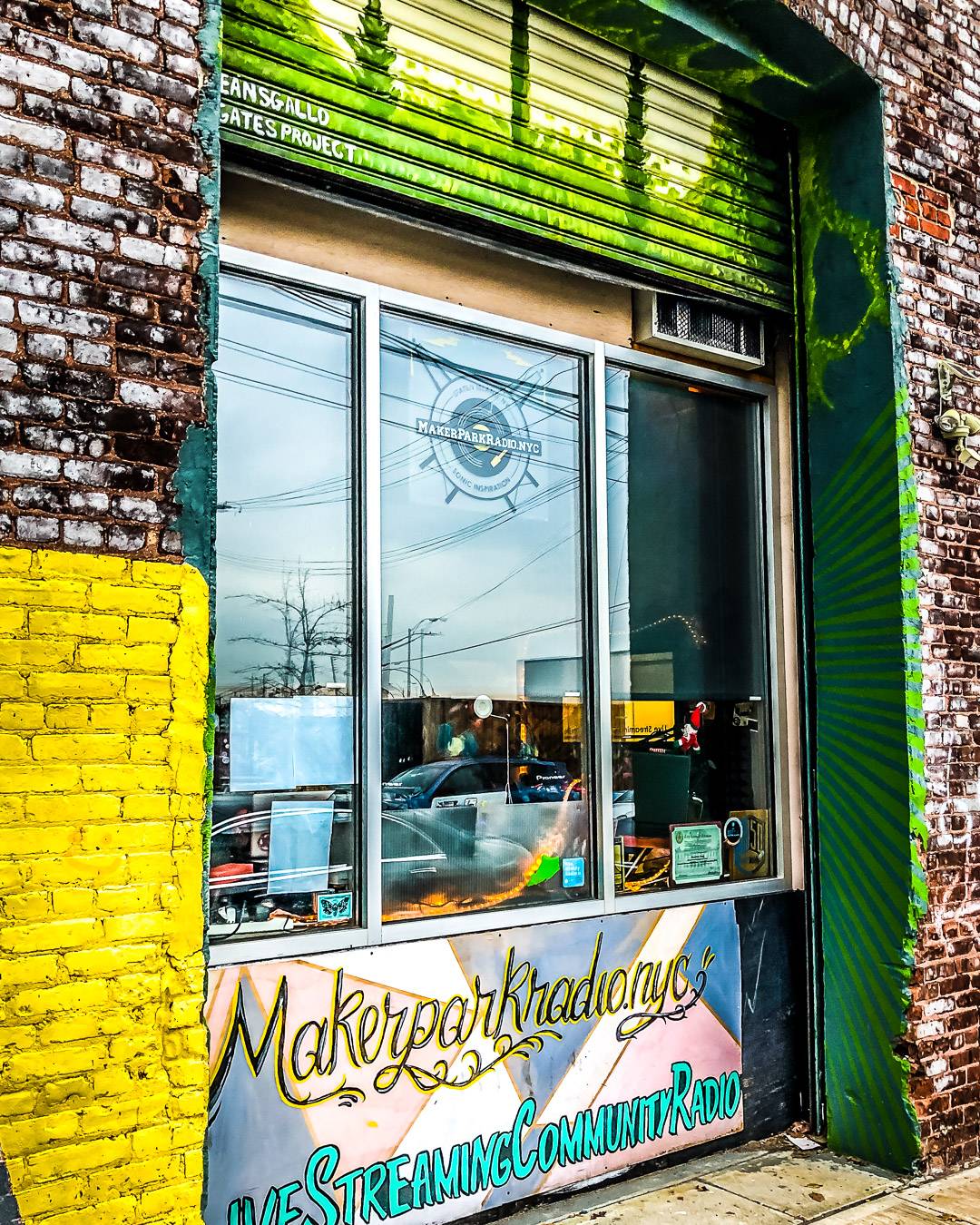 Where the music plays
Maker Park is an outdoor sculpture park and community work space that provides opportunities for artists to make and exhibit temporary public art projects. Even blacksmithing and beekeeping plays a big part.
In a corner of the workshop with a window to the street, is the setup for Maker Park Radio. The DJs can all work the system themselves, so we were alone in the studio. It's a basic setup with DJ-Controller, a couple of microphones, and each DJ brings there Laptop. During the Lockdown, a lot of DJs moved to vinyl, because they broadcast from home and didn't have to carry the records on the ferry.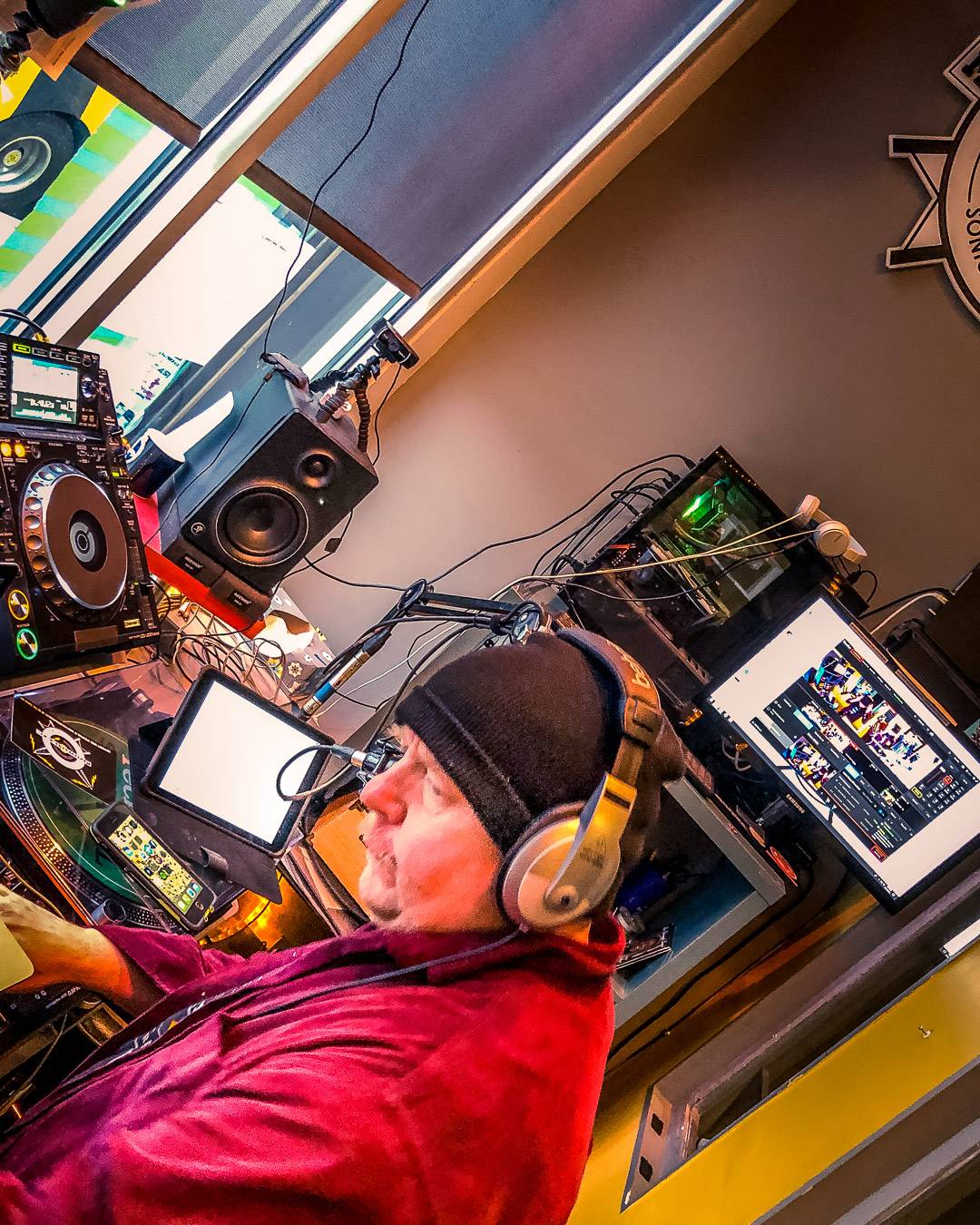 It was fun doing the show. I played Gary some classic German music, ranging from Can to Neubauten and of course we had to play DAF and the Der Plan.
Maker Park Radio is available on the web, They have a great archive. One of the best shows ist the Synthesizer Show which is hosted by Vince Clarke, who may of you will know from Depeche Mode, Yazoo and Erasure. Vince lives around the corner from Gary and we met him in the local bar. One of my favourite programmes on Maker Park is Co-Founder Tom and his "Nowhere Fast" Show. Tom has a great taste and always plays something weird and wonderful.
So move to Germany
So let us talk about the influence for RadioArt.Land. We were very impressed by the ease of how the system works. The US has a more lenient system with rights and also donations, so it is easy to set up a non-commercial radio station. When we got back to Germany, we looked into the rules and regulations of doing something similar in Artland.
One of the main reasons for our RadioArt.Land project, which was accelerated by the Covid-19 virus, was the power of music. We grew up in a time where music was a political and cultural weapon. It was used to oppose tyrants and warmongers. Music was at the same time, motivating and inspiring, a home for like minded people. It was a part of growing up.
Nowadays the situation is another. Music is no longer the main source of entertainment. It is time to change that. Anyone who has experienced the thrill of loud music in a concert situation, will know the feeling, we are trying to describe in words.
What happened?
Bob and Kosta started to do some shows on the Mixcloud platform. Mixcloud is a very good solution for DJs because they have a deal with the Gema in Germany, so you are not abusing copyright on the music you play.
Kosta did a great "Kick out the Germs" Lockdown show and we were finding out how this thing works. The next step was to find the kind of people that would help us get this project running. It was not as difficult as we might have thought. Quakenbrück has a long history of music, discos and DJs. So now RadioArtLand has a strong roster of DJs even before we are live. We also have a Board of Directors set up. Next step was to get the legal stuff sorted. Thomas Wellmer our local lawyer, helped us, as did Konrad Zinn our tax advisor.
Start a non-profit entity
To be officially recognised by the Gema and be able to play all music on a web radio, we decided to form a non-commercial entity, in German a "gemeinnützige Verein". To do this, you have to get an agreement with the German tax office, which is not easy, but we wanted to be able to give sponsors and members a tax saving method when they supported us. And that's what happened.
So how does it work? Starting up
The concept is easy. The show will go out live, but be available in recall. So you can access the whole archive of music. We have built the studio in the basement at USED GmbH, who are a company that makes bicycles. We have a good setup which allows us to play vinyl, cd's even cassettes (!). The music gets digitalised, goes through some software and gets uploaded to the internet.
Let's see where it takes us…..
---
Reader's opinions
---